2019 Woman of the Year Reception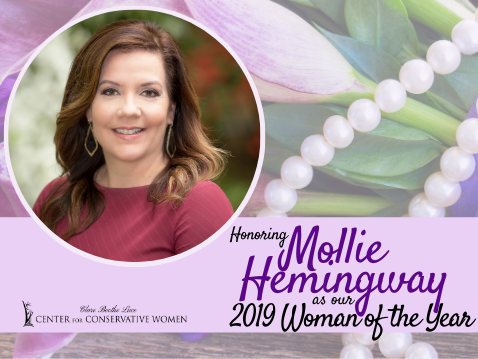 2019 Woman of the Year Reception
Please join us for our 2019 Woman of the Year reception honoring #1 national bestselling author Mollie Hemingway will be held on Monday, December 9, from 6:00 p.m. to 8:00 p.m.  The event will be held at 428 3rd Street NE, Washington, DC 20002.  
Business Attire
Light refreshments will be served.
Street parking is available, but limited.
The closest metro station is Union Station.
Mollie Ziegler Hemingway is a senior editor at the Federalist and a Senior Journalism Fellow at Hillsdale College. A Fox News contributor, she is a regular member of the Fox News All-Stars panel on "Special Report with Bret Baier." Her work has appeared in the Wall Street Journal, USA Today, the Los Angeles Times, the Guardian, the Washington Post, and many other publications. Mollie was a 2004 recipient of a Phillips Foundation Journalism Fellowship and a 2014 Lincoln Fellow of the Claremont Institute.
Mollie is the co-author of a recently published bestseller, Justice on Trial: The Kavanaugh Confirmation and the Future of the Supreme Court, where she and Carrie Severino conducted over 100 interviews, including those with President Donald Trump, current Supreme Court justices and dozens of senators, to piece together a definitive account of the Kavanaugh confirmation hearing.
Mollie is a speaker of ours, often sharing advice and encouragement to young women at our mentoring lunches and summits. Most recently, Mollie offered remarks on her new book at our Conservative Women's Network event in July 2019. We are proud to feature Mollie in several editions of our Great American Conservative Women calendar, as well as our recently released 2020 edition. Mollie is an incredible role model to young women, and therefore, we are proud to award her our 2019 Woman of the Year award.
For more information, contact Kara Bell.